Seattle Guitar Lessons
In Person & Online Guitar Classes
Learn to play Guitar!
My name is Danny Francoeur and I am currently accepting students that want to learn how to play the guitar! If you are looking for Seattle Guitar Lessons, look no further.
If you want to learn Blues, Rock, Classical, or Jazz let's start our Guitar Lessons!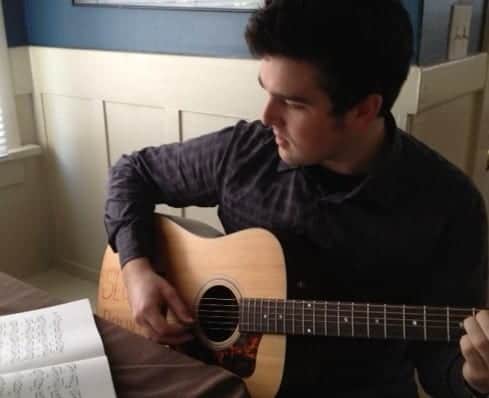 ---
Enjoy patient and fun Guitar Lessons with a Guitar Teacher who understands you
During our Guitar Lessons I will teach you exercises that will strengthen and develop your skills as a player, increase your scale and chord knowledge, and help you develop your own voice as a guitar player. I offer both half hour and hour long private guitar lessons. Contact Me
---
Join a community of guitar players in Seattle
Teaching guitar lessons is my primary focus, I have dedicated my career and education to developing my craft.
I have 12 years training under professional guitarists
15 years experience as a Private Guitar Teacher.
A Bachelors degree in Music from the University of Washington.
Experience playing in Classical, Rock, Blues, and Jazz.
---
Reviews from Dan's Students
---
I think the main purpose for taking Guitar Lessons is to have fun. Studying music can be a challenging and daunting experience. As a Guitar Teacher I strive to make our Guitar Lessons as relaxed and enjoyable as possible. And I design my lessons to meet your goals while helping you set up a great foundation of basic knowledge and techniques.
---
Lessons designed for you!
If you are hoping to read music, learn tons of chords and scales, play through classical pieces, or even just jam some rock tunes I can help you.  I push my students to not only know how to play a song or piece but to understand how it works as well.  Let's start strumming! Contact Me
---
Embark on a musical adventure
As a Seattle Guitar Teacher I have worked with children and retired adults. I love the diverse ages and interesting people I get to work with. My private guitar lessons are all about building proper technique, developing reading skills, learning songs, improvising, songwriting, ear training, music theory, relaxing and having fun.
---
Guitar Lessons for All Experience & Comfort Levels

My lessons are designed to be fun and relaxed.
I tailor my guitar teaching to everyone's individual needs. I love teaching guitar lessons so lets get started! Enjoy some Seattle Guitar Lessons. Feel free to Contact Me through email or phone.
I believe that everyone has music inside them and I am here to help you find it.
I teach all styles of guitar. I can teach acoustic, classical and electric guitar lessons. I also work on finger-style or flat picking with my students. Some students want to focus on just learning songs while others want to be rock stars! I can help get you going on both.
---